If you have a speeding ticket or other traffic charge pending in court, please call our office at 910.592.1583 to learn how we can assist you in handling this matter.
Mr. Griffin represents people charged with speeding and other traffic offenses throughout Sampson, Duplin and Bladen Counties.
Traffic citations can have a negative consequence on both your driver's license and your insurance rate. Speaking to an experienced attorney can help you minimize, and often eliminate, the adverse effects of a ticket. Mr. Griffin strives to help clients:
Negotiate a reduction of your present offense to minimize or eliminate the consequences of your driving record and insurance rates.
Handle a trial of your traffic matter when warranted.
The convenience of handling many simple traffic matters by telephone, mail, fax and email.
Many cases can be handled without your presence in court. We accept payment by Visa or MasterCard for your convenience.
Types of Traffic Tickets Handled
Mr. Griffin handles all types of speeding and other traffic tickets including:
Careless and reckless driving
Driving while under the influence of alcohol and the driver is under 21
Driving while license or registration is suspended or revoked
DWI
Driving with expired registration
Speeding Tickets
Speeding to Avoid Arrest
Speeding in a construction zone
Speeding in a school zone
Racing
Failure to yield to emergency vehicle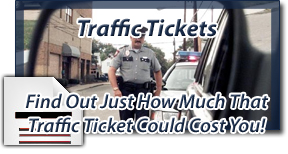 Failure to yield right-of-way
Failure to have liability insurance
Failure to stop for a siren
Passing a stopped school bus
Running a red light
Running a stop sign
Illegal passing
Following too closely
Unsafe Moving Violations